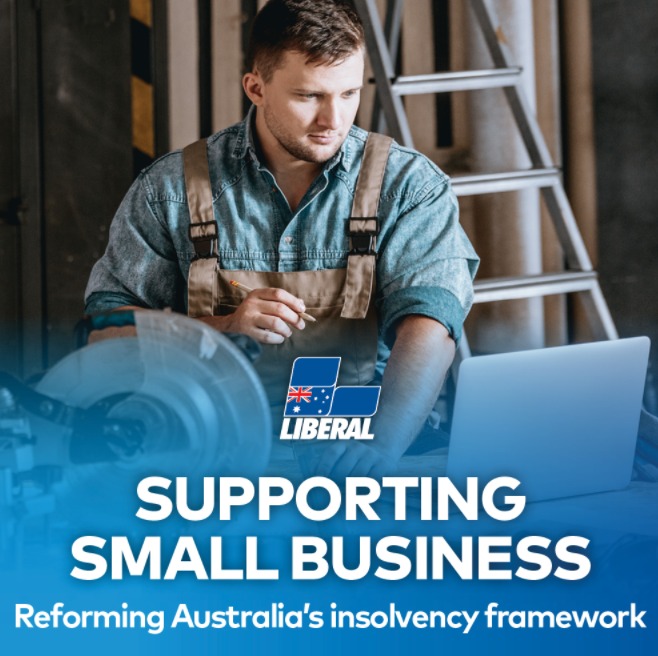 New insolvency framework
The Morrison Government will undertake the most significant reforms to Australia's insolvency framework in 30 years as part of our economic recovery plan to keep businesses in business and Australians in jobs.
The reforms, which draw on key features from Chapter 11 of the Bankruptcy Code in the United States, will help more Victorian small businesses restructure and survive the economic impact of COVID-19. As the economy continues to recover, it will be critical that distressed businesses have the necessary flexibility to either restructure or to wind down their operations in an orderly manner.
The reforms will assist incorporated businesses with less than $1m in liabilities covering around 76 per cent of Australian businesses subject to insolvencies today, 98 per cent of which have less than 20 employees.
Together, these measures will reposition our insolvency system to reduce costs for small businesses, reduce the time they spend during the insolvency process, ensure greater economic dynamism, and ultimately help more local businesses get to the other side of the crisis.
Earlier this year the Morrison Government announced temporary regulatory measures to help financially distressed businesses get to the other side of COVID-19. On 7 September 2020 the Government announced a further extension of this relief to 31 December 2020.
The new processes will be available for small businesses from 1 January 2021.
Senator for Victoria Sarah Henderson said, "These reforms give more support for Victorian businesses which have been hit hard by the coronavirus".
"The Morrison Government is standing by small and family businesses and doing all we can to ensure these businesses come out on the other side of this crisis".
New lending reforms
Treasurer Frydenberg has also unveiled sweeping lending reforms to make it easier for businesses to recover from the devastating impact the pandemic had on their operations and staff.
With businesses wanting to grow and add staff and equipment as they recover, the Morrison Government is ensuring the process to access the vital credit they need is as simple and streamlined as possible.
The lending reforms include removing the responsible lending obligations from the National Consumer Credit Protection Act 2009, with the exception of small amount credit contracts (SACCs) and consumer leases where heightened obligations will be introduced.
This will have the effect of ending regulatory duplication, reducing red tape and simplifying the approval process for both lenders and borrowers to get the flow of credit moving to businesses that need it most.  This will support not just business owners but anyone seeking a bank loan including families and first home buyers.
25 September 2020