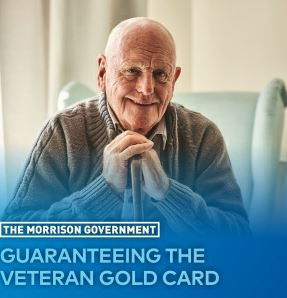 The Government is rejecting recommended changes to the Veterans' Affairs Gold Card, providing veterans and their families with clarity and assurance for the future of their benefits.
Senator for Victoria Sarah Henderson said the proposed changes to the Gold Card, recommended in the Productivity Commission report, A Better Way to Support Veterans, did not fully support the health and wellbeing of veterans and their families, which was a key focus of the Government's agenda.
Senator Henderson said regional Victoria's veteran community can rest assured that the Government was committed to their health and wellbeing.
"Regional Victoria has a proud history of military service and today's announcement will benefit not just our current veteran community, but generations of veterans into the future," Senator Henderson said.
"In coming to this decision the Government consulted extensively with the veteran community and the recommended changes to the Gold Card stood out as a particular concern to our veterans and their families.
"The Government is rejecting these recommendations and will not be implementing them. Eligibility for the Veteran Gold Card will not change.
"I hope this announcement puts the minds of our veterans and their families at ease relating to this important issue."
The Productivity Commission recommended restricting future Gold Card eligibility to veterans with a severe service-related impairment, effectively meaning no new grants of Gold Card for veterans' dependants as well as a number of other veteran cohorts who are currently entitled.
They also recommended there be no further extensions of eligibility for the Gold Card to new categories of veterans, veterans' dependants or civilians who are currently not eligible – effectively removing the ability of Government to extend eligibility for the Gold Card in the future to anyone who is not already eligible.
16 November 2020