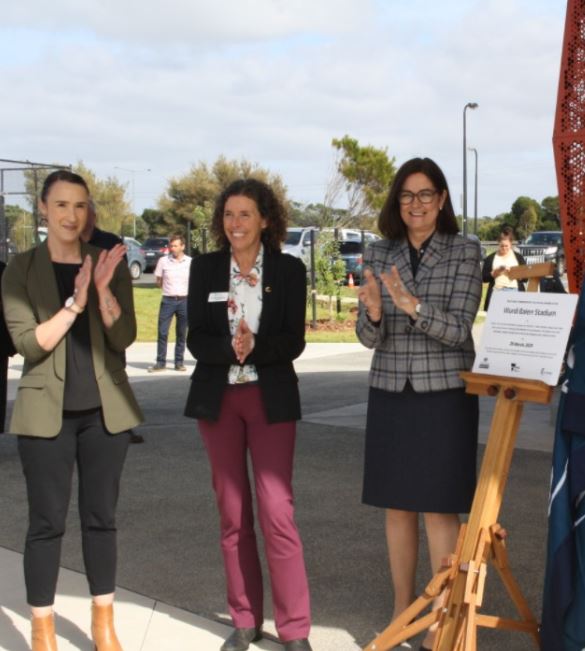 JMR WITH DEPUTY PRIME MINISTER McCORMACK
On 29 March 2021, Senator for Victoria Sarah Henderson officially opened the Wurdi Baierr Indoor Stadium in Torquay on behalf of the Morrison Government
The $12.75 million project was funded by a significant $5 million contribution from the Federal Government alongside funding partners the Victorian Government and the Surf Coast Shire.
Senator Henderson was joined at the opening by Surf Coast Shire Mayor Libby Stapleton, Deputy Mayor Liz Pattison and special guests from the Surf Coast Shire and Torquay community.
The stadium features a range of exciting upgrades including the construction of three indoor sports courts, a new spectator area, a new car park and will deliver a major upgrade to change rooms and amenities at the complex.
"Backed by $5 million from the Morrison Liberal Government, the Wurdi Baierr Stadium is a wonderful asset for the Surf Coast community," Senator Henderson said.
"This investment reflects our government's determination to build better regions by providing essential sports and community infrastructure"
"I am particularly proud that the project created 45 jobs during its construction and will create another 30 ongoing jobs which will provide a real boost to our region's economic recovery from COVID-19."
Deputy Prime Minister and Minister for Infrastructure, Transport and Regional Development Michael McCormack said the Australian Government's $5 million investment in sporting infrastructure would provide long term benefits to the Surf Coast region.
"The Surf Coast region has become a real sporting hub with participants in indoor sports such as basketball, netball, futsal and badminton, among others, expected to double in coming years," the Deputy Prime Minister said.
"That is why the Federal Government was more than excited to assist the local community in servicing their sporting needs."
The $5 million federal contribution was provided under the Morrison Government's Building Better Regions Fund which is investing $1.04 billion from 2017-18 to 2023-24 in regional Australia to create jobs, drive economic growth, and build stronger regional communities into the future.
To find out more about the Building Better Regions Fund, funding rounds and program guidelines, please visit business.gov.au/bbrf.