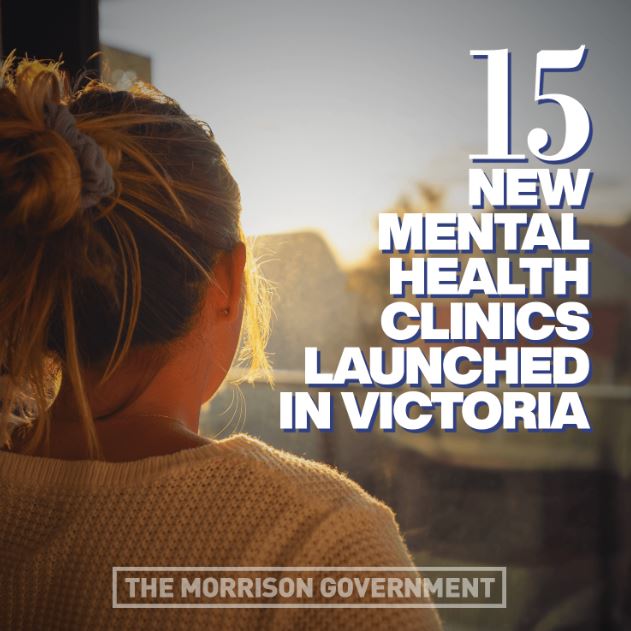 From Monday 14 September 2020, Victorians will have access to additional free mental health support with 15 new dedicated mental health clinics opening to the public.
The clinics, announced on 17 August as part of a $31.9 million federal government mental health package to support Victorians during the COVID-19 pandemic, have been rapidly rolled out across the state at a cost of $26.9 million.
Senator for Victoria Sarah Henderson encouraged anyone in regional Victoria struggling with their mental health, to seek support.
"This is a terribly difficult time for so many people in regional Victoria and throughout the state. It's important they know it's okay not to feel okay," Senator Henderson said.
"In the Western Victoria Primary Health Network, free mental health support services will now be available at:
 – Ballarat: Ballarat Community Health: 260 Vickers Street Sebastopol
 – Geelong: 155 Princess Highway Norlane
"Our Government recognises that the ongoing restrictions are having a significant impact on the wellbeing and mental health of individuals and communities in Victoria. We are committed to ensuring that support is available across the state, including here in regional Victoria."
"The clinics are staffed by multi-disciplinary teams of mental health professionals which may include GPs, mental health nurses, psychologists, psychiatrists, social workers and/or other allied health workers."
Minister for Health, Greg Hunt, said that the new clinics, branded with the HeadtoHelp logo, will provide a place within the community for people to access mental health care as early and as conveniently as possible.
"The HeadtoHelp clinics will provide on-site mental health support, and will also connect to other mental health services in their region, including intensive mental health care or social supports, to ensure people get the help they need when they need it," Minister Hunt said.
"The clinics will play a key role in supporting our GPs, emergency departments, and hospitals by providing easily accessible mental health care."
"This collaboration between the Commonwealth and Victorian governments is ensuring that the new clinics will be integrated with local services and will support other enhancements to Victoria's mental health system."
The rapid establishment of the clinics has been overseen by a joint federal and state Mental Health Pandemic Response Taskforce co-chaired by Dr Ruth Vine, the Australian Government Deputy Chief Medical Officer for Mental Health, and Pam Anders, CEO Mental Health Reform Victoria.
The clinics are being delivered by the Commonwealth Government's Primary Health Networks (PHNs) which play a critical role in commissioning mental health services at a regional level.
In addition to the clinics, $5 million in funding is being provided to enhance existing digital and phone services for specific groups that are experiencing significant challenges during the restrictions in Victoria.
These services providers include The Butterfly Foundation, Eating Disorders Families Australia (EDFA), Q-Life, Perinatal Anxiety & Depression Australia (PANDA), and Victorian Aboriginal Health Service (VAHS) Yarning SafeNStrong helpline.
This new support builds on the more than $500 million additional funding provided by our Government for mental health and suicide prevention during the COVID-19 pandemic, including 10 additional Medicare subsidised psychological therapy sessions for people subject to further restrictions.
We continue to demonstrate our firm commitment to the mental health and wellbeing of all Australians, with estimated annual federal expenditure on mental health services and suicide prevention estimated to be a record of $5.7 billion in 2020-21 alone.
Anyone concerned about their mental health can visit these clinics in person or call 1800 595 212 to talk to a health professional or connect to a service near them.
More information on how to access the HeadtoHelp clinics and additional digital supports can also be found at health.gov.au/resources or headtohelp.org.au.
13 September 2020