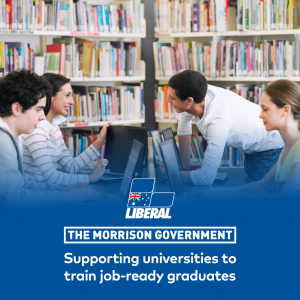 The Morrison Government's higher education reforms will benefit universities and students including at Deakin University by producing more job-ready graduates in areas of expected employment growth.
These growth industries include engineering, agriculture, science, health, architecture and environmental science.
Under these changes, no current student will face fee increases and students entitled to benefit under proposed fee decreases can do so from next year.
Australia's Higher Education Loan Program (HELP) remains the most generous income-based higher education loan scheme in the world and taxpayers rightly expect that our higher education system is producing job-ready graduates who are able to fill skills shortages in our economy and increase Australia's international competitiveness.
These reforms ensure the creation of an additional 39,000 University places by 2023 which will increase to 100,000 places by 2030.
Universities which focus on STEM education and research will also win big under these reforms with the Morrison Government establishing the National Priorities and Industry Linkage Fund (NPILF). The $900 million fund will have a strong focus on investment in STEM industries and will support universities to produce job-ready graduates for their local industries and communities.
22 June 2020