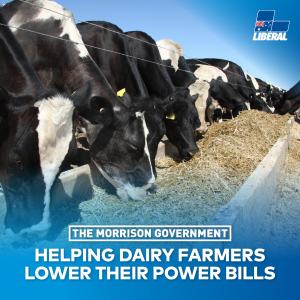 Joint Media Release with Minister for Energy and Emissions Reduction Angus Taylor MP.
The Liberal National Government is delivering on its commitment to help dairy farmers lower their power bills and play their part in helping to reduce Australia's emissions.
From 22 June 2020 dairy farmers across Australia can apply for grants that will support them to make their energy use more efficient and to reduce their power bills through the Government's Energy Efficient Communities program.
Grants of up to $20,000 will be available for a dairy farming business to upgrade equipment to reduce energy consumption, invest in monitoring systems to better manage energy use, and conduct energy audits to investigate other opportunities for energy efficient activities.
Energy use in milk cooling, milk harvesting and hot water production is one of the highest overheads in the dairy industry, costing dairy farmers as high as $12,800 per 100 cows each year.
Minister for Energy and Emissions Reduction Angus Taylor said the program is focused on helping dairy farming businesses to lower their power bills by becoming more energy efficient.
"Farmers have long been at the forefront of innovation to reduce their cost of doing business and their emissions output, but energy costs remain high for many in our dairy sector, especially when farmers are doing it tough on the back of bushfires and COVID19", said Mr Taylor.
"The Government's support will help dairy farmers in their efforts to better manage their energy use while also continuing to play a role in reducing global emissions."
Senator for Victoria Sarah Henderson said dairy farming businesses are a huge asset to regional economies.
"These grants will provide support at a time when so many in the agricultural sector are struggling. Supporting the long-term sustainability of our dairy farmers is critical to the sustainability of regional Australia," Senator Henderson said.
The Energy Efficient Communities Program was announced as part of the Government's Climate Solutions Package in the 2019 Federal Budget. $10 million has been made specifically available for the dairy round.
To ensure an equitable distribution across dairying regions, funding will be available in each state in proportion to the number of dairy farms.
Grant guidelines and application forms for the dairy round are available at business.gov.au, or by telephone on 13 28 46.
Applications will close on 17 August 2020.
23 June 2020