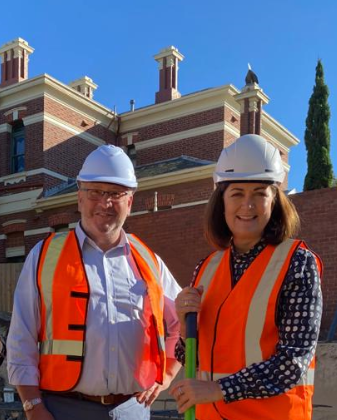 It was a pleasure to help turn the sod this morning to mark the commencement of construction of the $5.75 million Queenscliffe Hub.
Backed by $1.45 million from the Morrison Government, the Hub will comprise a state of the art home for the Queenscliffe Historical Museum, a new library and a visitor information centre, all under the one roof.
I am very proud to have worked with Queenscliff and Point Lonsdale residents, along with the Borough of Queenscliffe, to help realise this dream and deliver this important community asset.
This project is supported by a significant $1.45 million contribution from the Morrison Government under the Building Better Regions Fund which is investing $1.04 billion from 2017-18 to 2023-24 in worthy community-building regional projects which will create jobs, drive economic growth, and build stronger regional communities into the future.
I want to particularly thank Garry Spry and everyone from the Queenscliffe Historical Museum for their tireless advocacy for this project.
The project will create 50 to 60 local construction jobs, involving some 16 separate businesses across the Geelong region, will be a real boost to our local COVID recovery.
Combined with Morrison Government investments in other local projects such as the Queenscliff ferry terminal, the Point Lonsdale SLSC and the Cottage by the Sea, the Queenscliff Hub demonstrates our commitment to building better regions.
1 April 2021