I was delighted to join members of the Leopold community for the official opening of the upgraded Leopold Hall.
The Leopold Hall Committee received $77,123 from the Morrison Liberal Government under the Building Better Regions Fund for the $179,000 project, with the Leopold hall Committee contributing some $31,000 and Bendigo Bank $12,500. The state government contributed $75,400.
The funding provided for a new extension, meaning that the hall can now be used by more than one group at a time. The extension includes a large multi-purpose room and storage as well as a separate entrance.
I congratulate president Kevin Smith and committee members on this improvement of such a significant community asset which was constructed back in 1882.
The Leopold Hall is a much loved venue for dancing, community meetings and other local activities.
I am disappointed that Labor's Richard Marles and Libby Coker have opposed the funding of this and other Corangamite projects under the Building Better Regions program. This is a perfect example of how our government is working every day to build better regions.
I am also disappointed that the state Labor government, which is a funding partner, saw fit to conduct a separate opening of the hall last week.
In jointly funded projects, there should be joint openings at which all levels of government participate. It is not appropriate or respectful for Labor representatives to arrange their own opening which is contrary to the terms of our funding agreement. This happened several months ago when the Victorian Government tried to "open" the Princes Highway duplication between Winchelsea and Colac.
In this case, Bellarine MP Lisa Neville arranged a separate opening last week on 13 February 2020 (knowing this would precede the arrangements which had been made by the Commonwealth) about which I did not know until I saw this event posted on social media. This conduct is not only silly politics but disrespectful to ask community members to attend two separate openings. I trust this practice will not continue.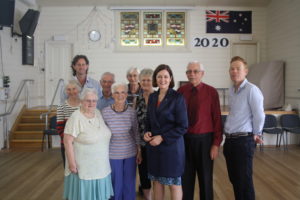 Photo: With president Kevin Smith, committee members and representatives from Rendine builders.
17 February 2020