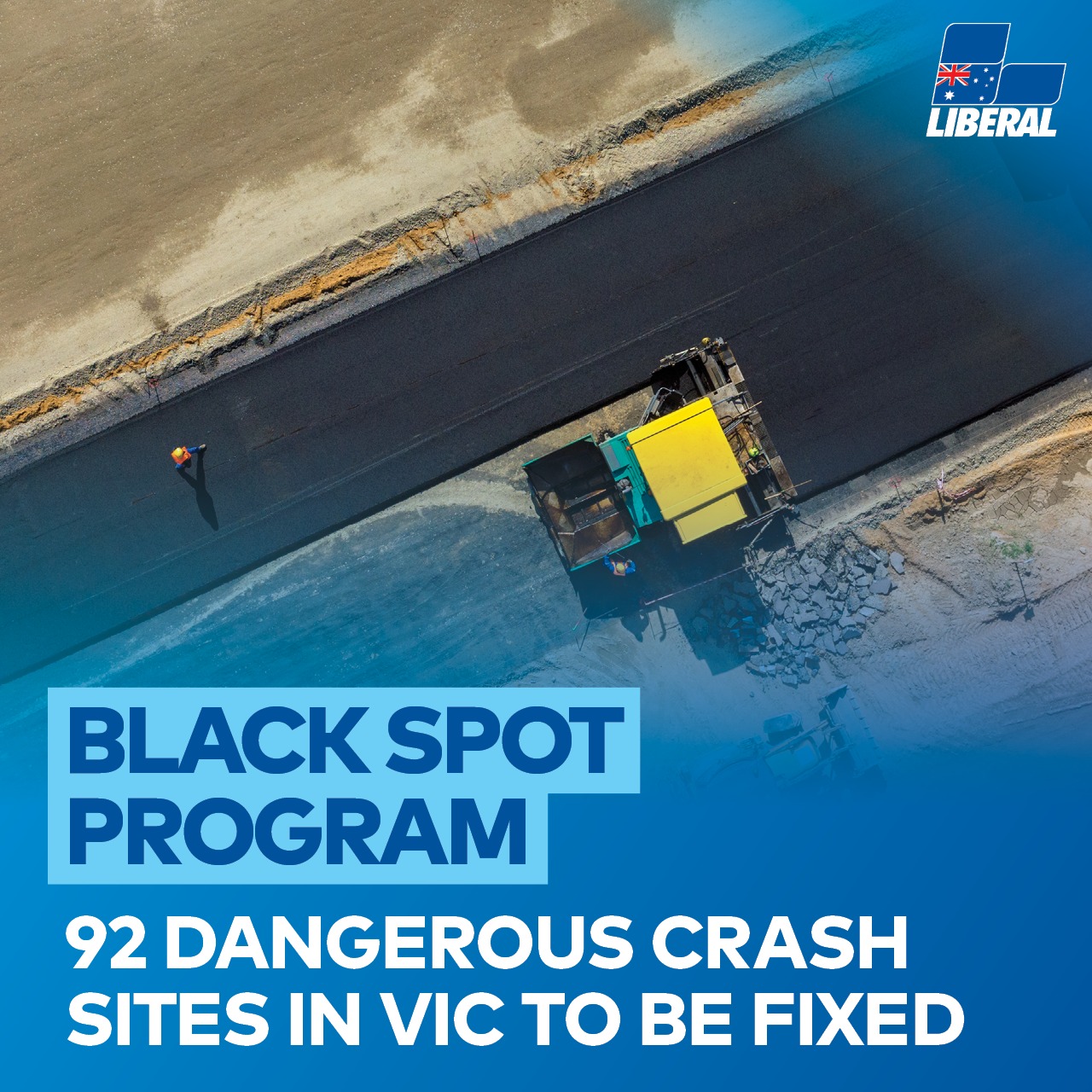 JMR WITH THE MINISTER FOR INFRASTRUCTURE, TRANSPORT AND REGIONAL DEVELOPMENT MICHAEL MCCORMACK AND ASSISTANT MINISTER FOR ROAD SAFETY AND SCOTT BUCHHOLZ
Residents in regional Victoria received a major road safety boost today with the Australian Government announcing it will invest $10,200,000 toward 21 projects across the regional electorates of Ballarat, Bendigo, Corangamite and Corio under the 2020–21 Black Spot Program.
Senator for Victoria Sarah Henderson said community input was critical to identifying key black spots in these electorates.
"Road crashes place major emotional and economic strains on all affected communities but particularly the families and friends of the victims," Senator Henderson said.
"I am pleased to see the following 21 projects across Ballarat, Bendigo, Corangamite and Corio will be delivered under the 2020–21 funding round:"
Ballarat  
$4,495,000 across five projects including:
Mair Street Armstrong Street and Lydiard Street at Ballarat Central: $1,378,000 to install Fully Controlled Right Turns, kerb outstands, centre of the road parking removal and a solid median;
Intersection of Learmonth Road  and Ring Road at Wendouree: $1,262,000 to modify geometry, install left slip lane and additional approach lanes. Improve lighting;
Intersection of Leith Street and Talbot Street at Redan: $780,000 to construct new roundabout at existing cross road intersection of Leith Street and Talbot Street and construct raised traffic islands and wombat crossings at the intersection of Leith Street and Ripon Street;
Intersection of Havelock Street and Landsborough Street at Ballarat North: $580,000 to construct new roundabout at existing cross road intersection;
Intersection of Rubicon Street and Talbot Street at Redan: $495,000 to construct new roundabout at existing cross road intersection;
Bendigo
$1,786,000 across three projects including:
Storys Road 1km section from Emu Creek Road at Emu Creek: $729,000 to install safety barriers on high risk curves, improve delineation (Chevron Alignment Markers, continuous centreline and edge line Raised Reflective Pavement Markers), install solar lighting,‍ seal shoulders to 1 metre;
Intersection of Tannery Lane and Guys Hill Road at Strathfieldsaye: $588,000 to construct a roundabout;
Peatlings Road 300m South West of Midland Highway at Bagshot: $469,000 to install safety barriers, straighten curves and widen road to separate traffic with a painted median, improve delineation;
Corangamite
$1,633,000 across four projects including:
Intersection of Mt Duneed Road and at Rail Underpass  near Moriac: $1,020,000 to widen road, construct 1 metre wide sealed shoulders, apply skid resistant asphalt, install guard fence with rub-rail, improve delineation and update signage, clear hazards, install street lighting
Intersection of Portarlington Road and McAdams Lane at Bellarine: $250,000 to install Chevron Alignment Markers and guideposts, install roadside safety barrier, implement centre median linemarking, edgeline, Raised Reflective Pavement Markers, clear hazards, install  'Stop Ahead' signage in McAdams Lane;
Intersection of Surf Coast Highway and Reserve Road at Grovedale: $225,000 to ban right-turn and through manoeuvres out of Reserve Road and Felix Street, spike down rubber islands, improve signage, improvements, install mountable median extension and new street light;
Russells Bridge Road 2km section near Parker Road at Russells Bridge: $138,000 to reduce speed limit to 60km/h, install additional Chevron Alignment Markers, Raised Reflective Pavement Markers and guide posts. Place barrier line through the length of works. Improve delineation. Install new guard fence (W-beam) as required;
Corio
$2,286,000 across nine projects including:
Intersection of LaTrobe Terrace and Fyans Street at Newtown: $628,000 to install fully-controlling right-turn movement on North/South approaches, improve intersection capacity;
Intersection of Corio-Waurn Ponds Road (Princes Highway) and Midland Highway at Geelong West: $301,000 to install advisory speed limit sign along the overpass, asphalt overlay/skid resistance treatment, new mast arm on north approach on Corio-Waurn Ponds Road, move back stop line and re-cut detector loops;
Intersection of Townsend Road and Boundary Road  at St Albans Park: $292,000 to install flat top humps (Wombat Crossings) on Coppards Road and Townsend Road approaches to the intersection with cyclists warning signs. Install Sharrow Markings on approaches and refresh all line markings and signs;
Intersection of Edols Street and Cowie Street at North Geelong: $242,000 to construct a raised intersection matching with existing lip of kerb to avoid additional drainage measures, install new Stop line-marking and Raised Reflective Pavement Markers on Cowie Street approaches, review lighting;
Intersection of Moorabool Street and Kilgour Street at Geelong: $186,000 to install raised pavements on the east and west approaches of Kilgour Street, install mast arm on east approach (Kilgour St), install new street light;
Mt Pleasant Road and Jacobs Street at Belmont: $181,000 to apply skid-resistant asphalt overlay on road, apply line marking, install 40km/h speed advisory and roundabout ahead warning signs on approach to the roundabout, install Raised Reflective Pavement Markers and refresh low reflective signs;
Intersection of Thompson Road and Cox Road at Norlane: $178,000 to remove 60 km/hr sign on south approach, upgrade signals to LED, install "No U-Turn" sign along the Cox Road west approach, install mast arm on Thompson Road, apply linemarking;
Intersection of Barwon Heads Road and Mt Pleasant Road at Belmont: $158,000 to upgrade/add lighting, extend and widen left turn slot, change Give Way to a Stop control, extend splitter island and advance holding line to edge of cycle lane, install Raised Reflective Pavement Markers, refresh line-marking and signs;
Intersection of Yarra Street and Myers Street at Geelong: $120,000 to change traffic light phasing including Fully Controlled Right Turns (FCRT) for Yarra Street, early start for pedestrians and illuminated Give Way to Pedestrians lantern;
"Motorists living within in and visiting these regional electorates will be pleased to know a total of 21 notorious black spots will be fixed with funding from the program."
"None of these projects would be delivered without the community's vital input and I encourage all residents and motorists in the region to nominate projects for future funding rounds."
Deputy Prime Minister and Minister for Infrastructure, Transport and Regional Development Michael McCormack said the state would receive $38.7 million under the program's 2020-21 funding round.
"This major investment is part of the Australian Government's commitment to building safer roads right across the nation," Mr McCormack said.
"The high-priority locations we are funding have seen a total of nine fatal crashes and a further 521 causing injuries recorded over the past five years."
Assistant Minister for Road Safety and Freight Transport Scott Buchholz said the 92 Black Spot projects across Victoria would make an important contribution towards reducing serious injuries and deaths on Victorian roads and built on previous investments in the state.
"Our Liberal and Nationals Government has invested the funding needed to deliver 535 projects across Victoria," Mr Buchholz said.
"Regional Victorians have been the primary beneficiaries of this program, as we have placed a heavy focus on addressing the number of crashes causing death and injury in regional areas.
"This new funding will see total investment through the Black Spot program in Victoria rise to $237.4 million, demonstrating our ongoing commitment to improving road safety."
For more information on the Australian Government's Black Spot Program, or to nominate a black spot, visit http://investment.infrastructure.gov.au/funding/blackspots.
7 August 2020