Delivering for Corangamite
The Morrison Government has committed to the following rail upgrades which will deliver faster, more affordable passenger rail services for Corangamite residents.
GEELONG RAIL DUPLICATION
With upgrades at Waurn Ponds Station already underway, the South Geelong to Waurn Ponds rail upgrade is expected to deliver 1,300 direct and indirect jobs, upgraded platforms and planning for a duplicated rail tunnel to Geelong Station. $605 million is being brought into the forward estimates after the Victorian Government agreed to accelerate planning and construction timelines.
FASTER RAIL BETWEEN MELBOURNE AND GEELONG
In March 2019, Prime Minister Morrison announced a commitment of $2 billion to deliver faster rail services to Melbourne.  This is an incredibly important project for regional Victoria and also western Melbourne.  We are yet to see any matching funding or a plan from the Victorian Government.
WARRNAMBOOL LINE UPGRADE
This project will deliver further upgrades to the Warrnambool Rail Line including track works to improve the ride quality, reliability and resilience of the line for passenger and freight rail services. These works will also assist with the introduction of modern VLocity-class trains, maximising the benefits of the new trains for passengers.
This project comprises building a new crossing loop west of Colac, signalling upgrades between Waurn Ponds and Warrnambool and upgrades at the following level crossings:
–       Hunts Road, Moriac
–       Waltons Road, Buckley
–       Buckley South Road, Buckley
–       Armytage Road, Winchelsea
–       Ayreys Reserve Road, Birregurra
–       Bourkes Road, Warncoort
–       Deans Creek Road, Colac
–       Station Road, Pirron Yallock
–       Swan Marsh-Stonyford Road, Swan Marsh
–       Oswells Road, Boorcan
–       Coyles Road, Terang
–       Station Road, Garvoc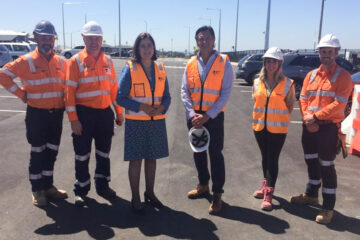 Media Releases
JMR WITH DEPUTY PRIME MINISTER McCORMACK Passengers at Waurn Ponds Station are benefiting from an increase in parking spaces with a car park now open as part of the station's upgrade. Deputy Prime Minister and Minister for Infrastructure, Transport and Regional Development Michael McCormack said the new car park will
Read More »