Delivering for Corangamite
In such a large regional electorate, building safer roads is a key priority of the Morrison Government. Key road projects funded in whole or part by our Government include:
MAJOR ROADS
$292 million to duplicate Barwon Heads Rd between Settlement Rd and Reserve Rd. This will provide much needed infrastructure for Marshall, Charlemont, Armstrong Creek and Bellarine residents, making this major road safer and less congested.
Duplication of Princes Highway between Winchelsea and Colac
Safety upgrade of Great Ocean Road
Upgrade Hamilton Highway between Geelong and Inverleigh
Safety upgrade of Apollo Bay to Forrest Rd
In addition to the major road safety investments that the Morrison Government is making across Corangamite, a new $2 billion Road Safety Fund will deliver more opportunities to invest in safer roads.
KEY LOCAL ROADS
Upgrade of Murradoc Rd St Leonards
New roundabout and safer intersection at entrance to Bannockburn
Upgrade of Cape Otway Rd/Lorne-Winchelsea Rd intersection
Grubb Road Ocean Grove
LOCAL ROADS AND BRIDGES
The Morrison Government is also upgrading local roads and bridges by providing the following vital funding:
Roads to Recovery Program: direct funding to local councils for local road upgrades
Bridges Renewal Program: upgraded bridges for Wye River, Moggs Creek and Teesdale
Road Safety Innovation Fund
Heavy Vehicle Safety and Productivity Program
Blackspot funding program: including for Cape Otway Rd Moriac, Blackgate Rd Torquay, Meredith Stieglitz Rd, Swan Bay Rd Mannerim, Forest Rd Anglesea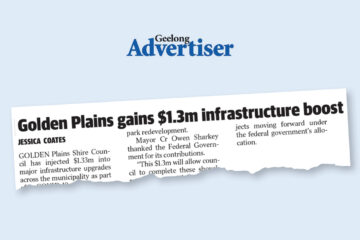 Press Articles
Announcing $1.3 million in federal funding for Golden Plains Shire community infrastructure and local road projects.
Read More »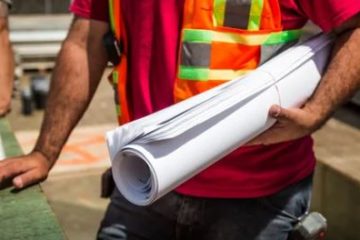 Media Releases
I am delighted that Golden Plains Shire has resolved to allocate the $1,333,655 it received from the Morrison Government under the Local Roads and Community Infrastructure to a number of important local projects. This vital funding will improve road safety and community infrastructure across the Shire and will provide a
Read More »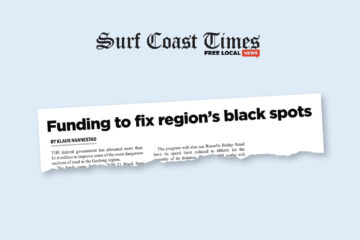 Press Articles
Announcing $1.6 million for the Geelong region to fix black spots on regional roads including for much-needed road-safety upgrades to Mount Dundeed Road.
Read More »